Beat Nation - Hip Hop as an Indigenous Culture
April 21 - June 6, 2009
67 Nicholas Street, Ottawa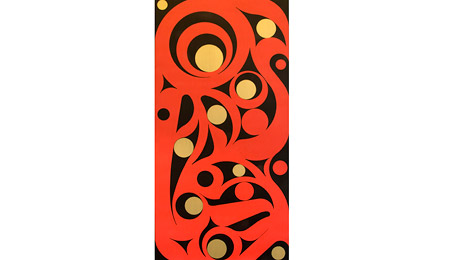 Curators: Tania Willard, Skeena Reece
Artists: Sonny Assu, Kevin Lee Burton, Corey Bulpitt, Andrew Dexel, Nicholas Galanin, Larissa Healey, Jackson 2bears, Tania Tagaq and many others

Within the generations of First Nations artists is a gap between established artists using traditional and contemporary imagery and younger artists influenced by hip hop culture. Rap, graffiti and comics have fuelled a new generation of artists who collide youth culture with aboriginal identity in ways that are startling and new. This project reflects the growing influence of urban cultures on traditional communities.
The exhibition and its accompanying website focus on the music, art and culture coming out of these communities – a fusion between the traditional and the postmodern. The website documents the development of Beat Nation over the last dozen years, and focuses on the artists, media producers and musicians who have brought this work to the forefront.
The exhibition is organized and circulated by Vancouver's grunt gallery and presented by SAW Gallery and BC Scene.