Dances for a Small Stage®
April 30 - May 1, 2009, 9:30pm
53 Elgin Street, Ottawa
Ticket Info
$15
Ticketmaster
613.755.1111
NAC Box Office
Box Office Hours of Operation:
Monday to Saturday: 10:00 to 21:00
Sundays and Holidays: when a performance is scheduled, the Box Office will open 2 hours prior to curtain until 15 minutes after the curtain time of the last performance.
Debit card and major credit cards accepted.
To order tickets by phone call Ticketmaster at 613.755.1111 or visit any Ticketmaster outlet in person. Major credit cards accepted. All sales final. Subject to service charges.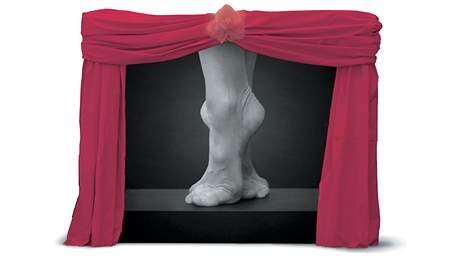 Day Helesic and Julie-anne Saroyan, Artistic Producers
Featuring Noam Gagnon, Day Helesic, Amber Funk Barton, Shay Kuebler, Alvin Erasga Tolentino, Cori Caulfield, Chengxin Wei, and Tara Cheyenne Friedenberg

Mix fabulous contemporary dance, an intimate cabaret space and a ridiculously small stage, and find yourself at Dances for a Small Stage®: Ottawa. MovEnt's Day Helesic and Julie-anne Saroyan bring their hot Vancouver series to BC Scene, opening the doors on a fresh, up-close-and-personal view of West Coast dance. Eight visionary choreographers bring their unique interpretations to the "small stage."
Artistic Director of Co. Vision Selective as well as Co-Artistic Director of celebrated company The Holy Body Tattoo, Noam Gagnon creates and performs Unfold me, a choreography of passion and vulnerability.
Co-Artistic Producer and principal choreographer of MovEnt, Day Helesic's Before I Sleep discovers a woman whose fear keeps her from rest.
Artistic Director of the response, Amber Funk Barton delivers a solo which fearlessly fuses hip hop, ballet and contemporary dance.
Shay Kuebler, the hyperkinetic 23-year old who burst onto Vancouver's dance scene three years ago, dances with energy so infectious that audiences want to leap right out of their seats and join him.
Alvin Erasga Tolentino of Co. Erasga is renowned for his dynamic, hybrid performance works exploring Asian culture and contemporary western issues of identity.
Cori Caulfield of Coriograph Theatre, with her trademark precision movement and statuesque form, creates and performs Aureole, a new choreography.
Chengxin Wei, Co-Artistic Director of Moving Dragon, creates and performs a new choreography exploring Asian traditions and western contemporary movement.
Tara Cheyenne Friedenberg of Tara Cheyenne Performance, well known for her hilarious, character-driven dance theatre works, presents the fantastically outrageous Melissa: your new youth leader.
Chengxin Wei is the recipient of the 2009 David Leighton Arts Fellowship

Supported by Anndraya T. Luui