Assembly
April 24 - 25, 2009
53 Elgin Street, Ottawa
Ticket Info
$10
Ticketmaster
613.755.1111
NAC Box Office
Box Office Hours of Operation:
Monday to Saturday: 10:00 to 21:00
Sundays and Holidays: when a performance is scheduled, the Box Office will open 2 hours prior to curtain until 15 minutes after the curtain time of the last performance.
Debit card and major credit cards accepted.
To order tickets by phone call Ticketmaster at 613.755.1111 or visit any Ticketmaster outlet in person. Major credit cards accepted. All sales final. Subject to service charges.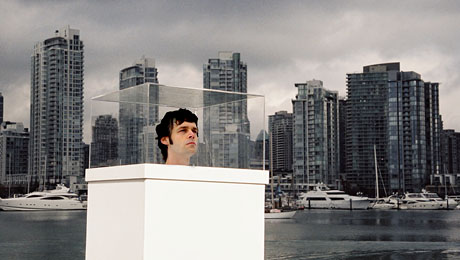 Directed by Paul Ternes
Featuring Katy Harris-McLeod, Andrew Laurenson, Billy Marchenski, Emelia Symington Fedy

An hilarious self-improvement seminar that takes you literally into another world, Radix Theatre's two-time Jessie Richardson Award-winning Assembly confronts the desire for unity in an increasingly divided world, sharing the secret to becoming whole as things gradually fall apart.
Four seminar leaders intermingle with their spectators, asking peculiar questions and receiving surprisingly honest answers: "Who here prays?" "Who here lies?" Bizarre breakout sessions offer equal parts tongue-in-cheek parody and absurdist drama, as together we unlock our deepest desires and try to remember what human interaction is all about.
Radix Theatre will also be presenting its 2007 hit The Performance Art Trap at SWARM, the April 21 opening of BC Scene.

A Radix Theatre production