Crystal Pite / Kidd Pivot
April 24 - 25, 2009, 7:30pm
53 Elgin Street, Ottawa
Ticket Info
$35 +
Ticketmaster
613.755.1111
NAC Box Office
Box Office Hours of Operation:
Monday to Saturday: 10:00 to 21:00
Sundays and Holidays: when a performance is scheduled, the Box Office will open 2 hours prior to curtain until 15 minutes after the curtain time of the last performance.
Debit card and major credit cards accepted.
To order tickets by phone call Ticketmaster at 613.755.1111 or visit any Ticketmaster outlet in person. Major credit cards accepted. All sales final. Subject to service charges.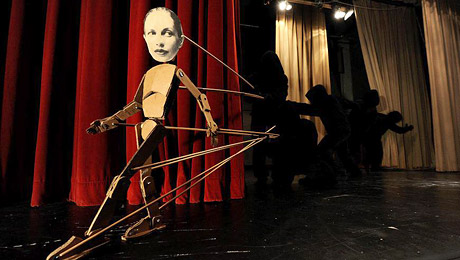 World Premiere, Dark Matters

Crystal Pite is a dance sensation. This award-winning Vancouver-based dancer-choreographer is smoking hot, creating works for Ballett Frankfurt, Nederlands Dans Theater 1, Les Ballets jazz de Montréal (bjm_danse), Ballet British Columbia, Alberta Ballet, Dance Victoria, Cedar Lake Contemporary Ballet, and numerous independent dance artists. Her work integrates original music, text, rich visual design, and a keen sense of wit and invention. Pite's distinct style fuses classical elements, the complexity and freedom of structured improvisation and a strong theatrical sensibility. Still, physicality trumps all. Her kinetic manoeuvres make us see entire worlds unfold. The physical evocation she creates is defined by what she calls "intricacy, delicacy, articulation, freedom and an expansive body". "Hers is a glorious and charged landscape." (Philip Szporer)
Successful and highly acclaimed, Pite's company Kidd Pivot produces performance work that is assembled with recklessness and rigour, balancing sharp exactitude with irreverence and risk.
An NAC Associate Dance Artist, Crystal Pite's Lost Action (seen at the NAC in 2007) was a huge success with audiences and critics across Canada. She stole the show at the May 2008 Governor General's Performing Arts Awards gala, and her performances of Decembering and Fault were the hit of the 2008 Canada Dance Festival. BC Scene audiences have an opportunity to see Pite's eagerly awaited new work, Dark Matters, before it is presented at the Vancouver 2010 Cultural Olympiad.
Crystal Pite is the recipient of the 2008 Governor General's Performing Arts Awards Mentorship Award
Presented by National Arts Centre Dance