Canadian Museum of Civilization – B.C. Collection
April 21 - May 3, 2009
100 Laurier Street, Gatineau
Ticket Info
Admission included in museum admission
Canadian Museum of Civilization
Tickets are available at the Canadian Museum of Civilization box office. Tickets can be reserved by calling 819.776.7000 (service fee applies).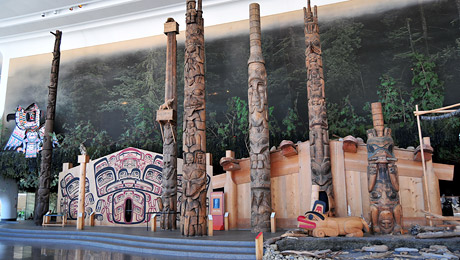 The Canadian Museum of Civilization's permanent exhibitions include the majestic Grand Hall. Presenting the Aboriginal history and culture of Canada's Northwest Coast, it features six Pacific Coast Indian house façades and a number of totem poles. Among the exhibit's beautiful works of art are the gold-on-bronze sculpture by Robert Davidson, Raven Bringing Light to the World, and the plaster pattern for The Spirit of Haïda Gwaii, the sculpture by renowned Haïda artist Bill Reid that is shown on the back of Canada's twenty dollar bill. Exhibits in the Grand Hall also include works by B.C. artists Ron Hamilton, Glenn Tallio, Jim Hart, Beau Dick and Richard Hunt.
The Museum also features the First Peoples Hall, dedicated to the history and achievements of Canada's Aboriginal peoples, and the highly popular Canada Hall, which takes visitors on a cross-Canada journey through 1,000 years of history.