Mei Han and Red Chamber
April 29, 2009, 8pm
395 Wellington Street, Ottawa
Ticket Info
$15
Ticketmaster
613.755.1111
NAC Box Office
NAC Box Office
613.755.1111 / bcscene.ca
At the door (1 hour before showtime)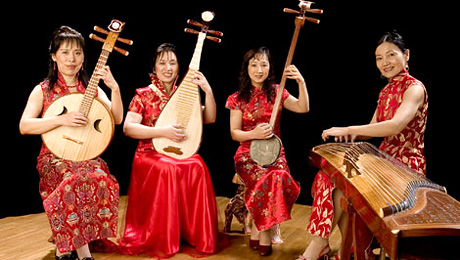 Whether it is the sultry beauty of Imperial Court classics, or cutting edge contemporary creations, Mei Han and Red Chamber's fiery passion embodies every note. This Vancouver ensemble straddles the traditional and the contemporary, from ancient Chinese string band music seldom heard in the West, to bluegrass, folk, and jazz fusion.
Led by Mei Han, a groundbreaking virtuoso renowned for taking the Chinese zheng in radical new directions of musical expression, Red Chamber takes its inspiration from the traditional Chinese "Plucked String" repertoire and creates an exciting new sound.
East meets West as these virtuosic performers are joined onstage by special guest mandolin player John Reischman (The Jaybirds) renowned for his exquisite taste, tone and impeccable musicianship.

Presented in association with the Ottawa Asian Heritage Month Society