The Ecstasy of Rita Joe
April 29 - May 16, 2009
53 Elgin Street, Ottawa
Ticket Info
Adults from $26
Previews: $35 (Apr. 29 & 30)
Ticketmaster
613.755.1111
NAC Box Office
Box Office Hours of Operation:
Monday to Saturday: 10:00 to 21:00
Sundays and Holidays: when a performance is scheduled, the Box Office will open 2 hours prior to curtain until 15 minutes after the curtain time of the last performance.
Debit card and major credit cards accepted.
To order tickets by phone call Ticketmaster at 613.755.1111 or visit any Ticketmaster outlet in person. Major credit cards accepted. All sales final. Subject to service charges.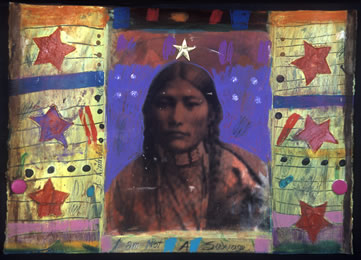 By George Ryga
Directed by Yvette Nolan
Starring August Schellenberg as David Joe
With Pierre Brault, Layne Coleman, Ryan Cunningham, Todd Duckworth, Telly James, Darcey Johnson, Falen Johnson, Kevin Loring, Jeremy Proulx, Michelle St. John, one actor to be announced, and Lisa C. Ravensbergen as Rita Joe.

In 1967, Canadian playwright George Ryga paved the way for a fledgling Canadian drama with The Ecstasy of Rita Joe. Ryga's seminal work opened the National Arts Centre Theatre in 1969 and focused a spotlight on First Nations people and First Nations issues. The glare was direct, unsentimental and powerful, and Canadian theatre would never be the same again.
Rita Joe, a young First Nations woman, goes to the city to find work and make a life for herself off the reserve. What she finds is racism, poverty, obstacles and a world that she is neither able nor equipped to navigate. She cannot go home and she cannot stay; ultimately, she becomes the victim of a no-man's-land for the invisible.
In 1969, a white woman, the remarkable Frances Hyland, played the part of Rita Joe. Today, First Nations artist Lisa C. Ravensbergen interprets the role. That much has changed; but revisiting the play asks us to question what else has changed in the decades since it first shocked audiences with its political candor.